Data from an HRA helps to design effective wellness programming
HRAs benefit the organization and the individual. HRAs are key to designing a wellness program that is relevant, engaging, and effective. Too often, wellness programs are missing the key element of engagement, or the ability to keep participants' attention and maintain participation. A lack of engagement can occur if the wellness program fails to meet the employees' specific needs and therefore seems irrelevant to the users.
A report from 2020 shows that 70% of large organizations offer an HRA and/or biometric screening as part of their wellness program. This is up from 2013, when only 46% of firms reported doing active clinical screening or HRAs. The upward trend shows that growing numbers of wellness coordinators value data insights to plan relevant and engaging programming.
Benefits to employees
Health risk assessments provide employees with an overview of their own health metrics and encourage individuals to take better control of their health. During the HRA process, employees evaluate their lifestyle habits in detail. Wellness technology can then use the information collected and combine it with biometric data, including vital signs and blood test results, to gain an accurate view of an individual's overall wellness. In an effective HRA, a full, easy-to-read report is immediately and automatically given to each participant. This report is kept private from managers, who typically only see personal health information in the aggregate.
Participants not only gain understanding of their current health standing but are given actionable next steps, like recommendations for screenings and lifestyle changes. They can also be connected to counselors or health and wellness specialists who can be a further resource to help achieve their health goals. Personalized goals and activities can then be added to their individual employee wellness programming.
Then interactive wellness technology can support sustained engagement and encouragement for the duration of the program. This is done via push notifications, check-ins with providers, and ongoing programming, such as relevant wellness challenges and educational programs. All of these communications can be powered by HRA data.
Benefits to employers
A major benefit employers gain from an HRA is a more effective, data-driven wellness program that meets specific employee needs. HRAs are also associated with cost savings through early detection of illness and generally improved health throughout the workforce. The positive ROI of a well-designed wellness program, including an effective HRA, has been well documented.
For instance, organizations can do a mental health assessment in their workplace to assess team members' risk of developing a mental illness. With this, they can design appropriate interventions, such as providing coaching and counseling. In turn, this helps the company save on the costs of employee turnover and low productivity.
HRA-informed wellness programs are designed to reduce healthcare spending. Research from the Kaiser Family Foundation and Health Research and Educational Trust found that the average cost of health insurance premiums for families reached $22,221 in 2021, increasing by 4% from 2020. Employers pick up a huge percentage of that cost. But employee health impacts more than just healthcare costs. It affects overall company culture, performance, productivity, and workplace health and safety. Therefore, employers globally have turned to employee wellness programs with HRAs to identify chronic conditions, prevent stress and burnout, address poor engagement, and other organizational challenges unique to their operations.
Mental health benefits
The distressing global events of the last few years have caused an increase in mental health issues among many employees. According to the latest Centers for Disease Control and Prevention (CDC) data, over 40% of adults in the US live with anxiety and depression, suicidal thoughts, and/or substance abuse. The high rate of mental illness is often associated with forced isolation, difficulty adapting to new work-life challenges, and economic uncertainty.
Employers can use HRAs to dive deeper into the struggles their workers may face and create strategies that address these difficulties. For example, Wellness Checkpoint's Psychological Well-being Assessment measures personal characteristics that reflect employee mental health and assesses areas where organizational factors may be impacting well-being.
Alignment with current employee needs
Simple, 'feel-good' wellness programs are often limited to physical activity and nutrition topics. And while these types of programs may be a good starting place for wellness, the reality is that work has evolved significantly and it's now important for employers to develop more robust wellness programs that align with employees' most urgent needs. Wellness program managers or wellness providers themselves can survey populations about the current work environment and identify potential challenges that hinder employees from being healthy and productive. This can be done directly in a customizable HRA.
Additionally, HRA results enable personalized information to be sent to individuals according to their risk factors. In the best HRAs, this kind of feedback is delivered instantly and automatically upon completion of the survey. This way, participants have greater knowledge about, and access to, benefits that would be the most helpful to them. In many cases these resources include options that have been available for some time, but employees either didn't know about them, didn't know how to access them, or didn't know that they would be helpful. Connecting people and resources allows them to use benefits that were there all along.
Boost organizational culture
Having a positive corporate culture means that employees enjoy a healthy work environment. Employees in positive work environments are more creative, have stronger relationships with coworkers, and are overall happier. Often, it results in lower turnover and higher productivity. But managers need data to make improvements in workplace culture.
Through carefully designed HRAs, organizations can take a pulse of their organizational culture and see where they can improve. Assessments that are used to inform personalized workplace wellness programs is a strong starting point: it lets workers know they are valued and that their managers care about their well-being.
Since record high numbers of employees are experiencing burnout and unmanaged workplace stress, many managers begin their efforts at culture improvement with mental health programming. An effective first step is to offer a mental health assessment, like the ones in Wellness Checkpoint's Well-Being@Work suite of assessments.
The data they collect is essential in helping managers delve deeper into an employee's psychological strengths and challenges in the context of their work experience and workplace culture. The information gathered sheds light on how organizational systems and culture impact employee health, well-being and performance -- designed to drive improvements in organizational culture and processes.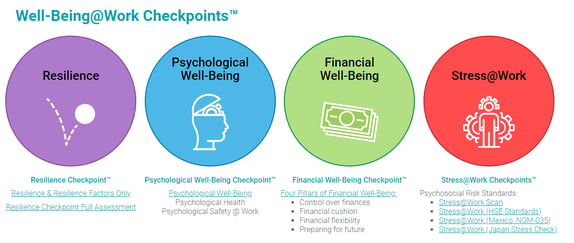 An on-going process
Using HRAs to strengthen wellness programs and organizational culture is an ongoing process. Having a wellness program that is responsive to the HRA findings and provides actionable interventions will yield higher wellness program engagement and meaningful health improvements., bBut that's just the first step.
Part of an effective wellness program is to reassess employees regularly, to determine if the interventions have resulted in positive change and to track progress over time. Having a robust and flexible wellness platform in combination with regular wellness checkpoints is critical in ensuring that well-intended HRAs don't go to waste, and that a wellness program stays on the right track.
Wellness programs need to remain relevant, and that can be done by keeping up with employee needs as they evolve. What workers need after the first HRA may be different from what they need a year or more later. And, once employees have been participating in wellness for some time, they'll need new challenges and opportunities. Wellness coordinators should check in frequently with their populations to know what's working and what isn't.